Ribbons are small decorations that are worn by military, police, or civilian organizations. Ribbon bars are mainly used when wearing full decoration. Each military force has its own rules in regards to what ribbons are worn in which order of precedence.
Some awards are "ribbon only", having no associated medal. Ribbon bars are typically not worn on utility or combat uniforms, but instead for office or dress occasions. Ribbon bars are worn in rows on the chest. This cluster of bars is collectively referred to as a "ribbon rack".
The ribbons also serve the purpose of, not only decoration but also, They show what achievements you have gotten as a cadet.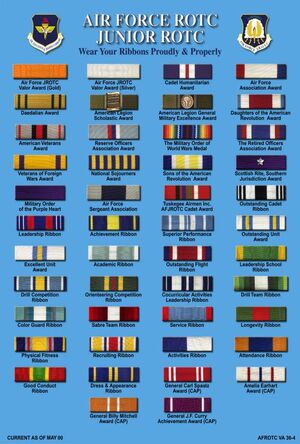 Ribbons List
[
]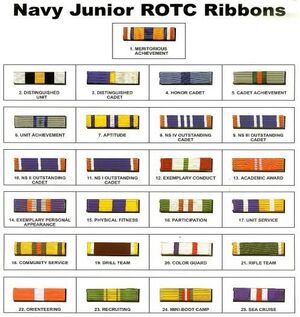 MCJROTC Ribbons
[
]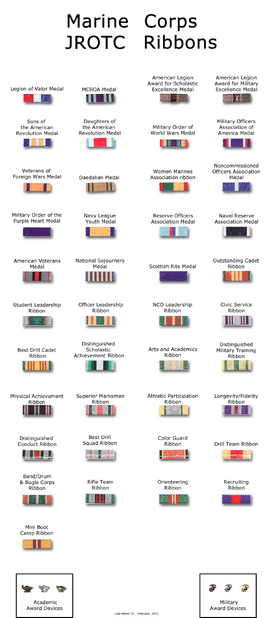 Miscellaneous
[
]
Ribbons authorized to be worn by some units in multiple different branches of the jROTC fall into the Miscellaneous category. Whether they be from the Civil Air Patrol or otherwise, these are usually allowed to be displayed as instructed by the uniform captain or an instructor.
Ribbons List
[
]
ROTC/JROTC Award (SUVCW)

- Awarded by the Sons of Union Veterans of the Civil War if appropriate forms are filled by out by the cadet and instructor. (see here for the said forms)